MR003W Anaerobic Water Purification Pilot Plant Didactic Equipment Teaching Equipment Sewage Treatment Educational Equipment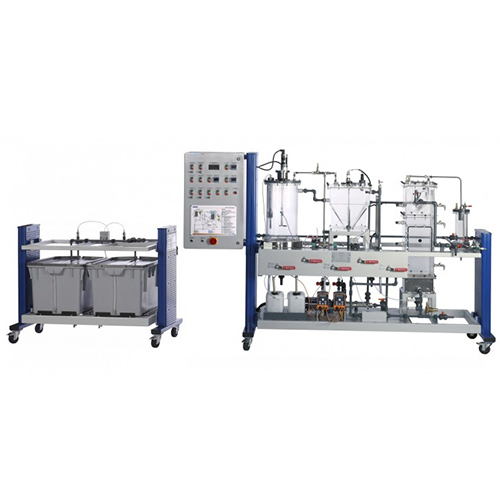 This pilot plant consists of a reactor with built-in settler and floating head for hydraulic guard.
Sludges are fed and recycled by two gear pumps; a compressor will recycle gas from the top to the bottom of reactor keeping biomass stirred.
Biomass is heated by a heat exchanger included in the digester and connected with a diathermic-oil heating unit.
Process control, data acquisition and supervision are automatically carried out by a microprocessor controller and by a specific control and supervision software that enables the remote control of various operational parameters.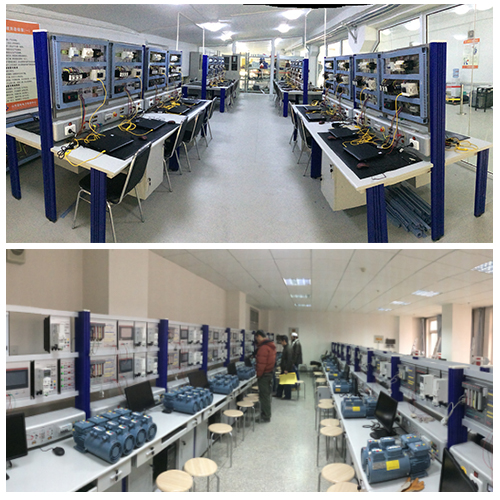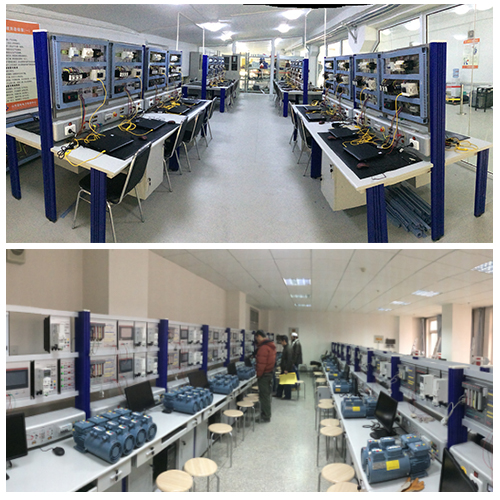 • Framework of AISI 304 stainless steel with castors
• Anaerobic digester of AISI 316 stainless steel, with capacity of 350 l, equipped with oil heating system including a heat exchanger of AISI 304 stainless steel
• Electronic thermostat for control of heating temperature
• Magnetic drive sludge recycle gear pump with body of stainless steel AISI 316, fl ow rate of 0 to 60 l/h
• Diaphragm compressor with body of stainless steel, fl ow rate of 1200 Nl/h
• Electronic magnetic-induction feed fl ow rate transmitter of AISI 316 stainless steel, with range of 0 to 60 l/h and 4 to 20 mA output signal
• Board-type electronic indicator of feed fl ow rate, with range of 0 to 60 l/h
• Electronic magnetic-induction sludge recirculation fl ow rate transmitter of AISI 316 stainless steel, with range of 0 to 60 l/h and 4 to 20 mA output signal
• Board-type electronic indicator of sludge recirculation fl ow rate, with range of 0 to 60 l/h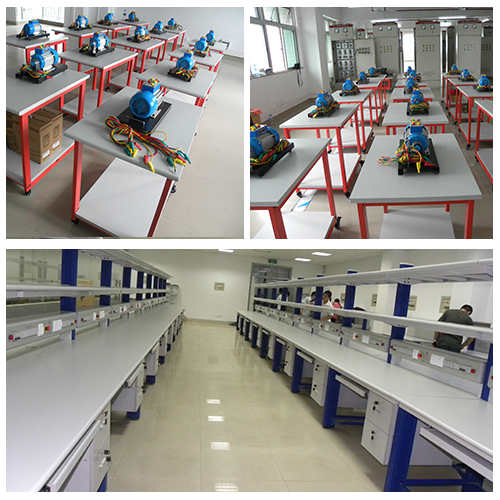 • Microprocessor-controlled board-type pH-meter, with range of 2 to 12 pH, 4 to 20 mA output signal
• Microprocessor-controlled board-type rH-meter, with range of -1500 and +1500 mV, 4 to 20 mA output signal
• Pressure gauge with range of 0 to 50 mm H2O
• Pressure switch for controlling pressure in the reactor
• Switchboard IP55, complying with EC conformity mark, including plant synoptic and ELCB
• Emergency pushbutton
• Connecting lines and valves of AISI 304 and 316 stainless steel
Power supply: 230 Vac 50 Hz single-phase - 1,5 kVA (Other voltage and frequency under request)
Dimensions: 2300 x 1000 x 2020 mm
Weight: 290 kg
Supplied: THEORETICAL – PRACTICAL – EXPERIMENTAL HANDBOOK
Installation, Training and Commisisoning is required