MR143E Building Automations Transformer Training Workbench Teaching Equipment

1 product overview
1.1 overview
This experiment device of building automation system are introduced in detail, be able to program design and installation debugging, through the experiment, to master the working principle of building automation system and control mode, the corresponding knowledge and skills, to cultivate students fit, higher vocational colleges, secondary vocational schools and vocational school related professional teaching and skills training examination.

1.2 features
(1) the training platform adopts the frame structure of aluminum profile, and the bottom has the universal wheel, which can be moved flexibly, easy to use and not easily damaged.
(2) complete configuration with USB/KNX input module: for programming and installation via PC and visual soft. Allows users to implement their own programs or simulation code.
(3) with control and visual software, students are allowed to edit data and control experiments
(4) the training platform has a good security system.
2 performance parameters
(1) adjustable spotlights, lights 230V 40W
(2) differential switch 30 mA(25A)
(3) circuit breaker 10A
(4) input power: two-phase three-wire system 220V plus or minus 10% 50Hz
(5) size: 1400mm x 700mm x 1800mm
(6) complete machine capacity: < 1KVA
(7) weight: < 150kg
(8) working conditions: temperature - 10 ℃ ~ + 40 ℃ relative humidity < 85% (25 ℃)
3 product composition
3.1 power control screen
The aluminum profile panel structure, the embedded installation of the power parts, the instrument and load modules are in the form of aluminum alloy mounting box, and the connection is convenient.
3.2 training table
The practical training table adopts the aluminum profile frame, the bottom wanxiang wheel brake braking, flexible movement and positioning, the tabletop USES fire prevention board mesa, the overall structure is firm, beautiful and generous.
3.3 This bench allows the study of:
-Introduction to visualization software.
-Management of lights and openings.
-Management of energy.
-Configuration for participants.
-Programming and commissioning of the installation.
-Technology and architecture of KNX installation.
The frame is include three types of KNX actuators:
*Module of 2 digital outputs for the control of 2 switching light circuits,
*Module of 2 switching and varying outputs for the control of 2 switching and varying light circuits.
*Module of 2 roller shutter/blind outputs for the control of 2 roller shutter/blind.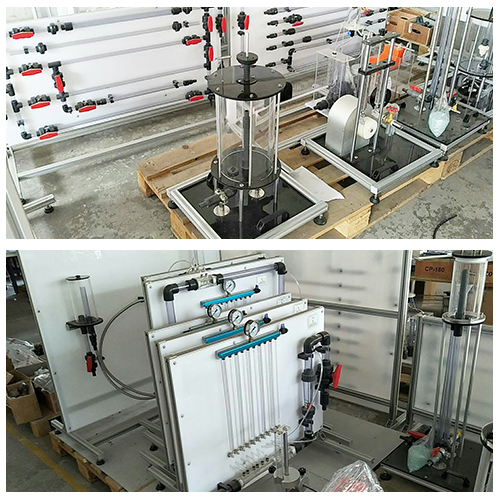 The frame is include three types of KNX inputs:
*Module of 2 KNX universal digital inputs for interfacing 2 conventional pushbuttons.
*2 Modules of 4 KNX universal digital inputs for interfacing 4 conventional pushbuttons each one.
*Light sensor and KNX presence detector for controlling several light circuits in term of presence and luminosity.
Connection with exterior environment:
*A KNX bus extension connector for connecting a touch display supervision of the installation.
*2 connectors allowing the connection of two motorized opening effectors; so, the connection between a roller shutter and a blind is possible.
*USB/KNX input module: for programming and commissioning the installation via PC with visualization software.
Operative part: Lights:
*4 adjustable spotlights with lamps 230V 40W.
Operative part: Motorized opening:
*Simulated by 2 LEDs 230V per openings indicating the direction of movement (Up and down).
Control part:
*3 double pushbuttons.
*2 pushbuttons for the roller shutter/blind control, KNX interfaced,
*KNX luminosity and presence detector sensor,
The frame is include also:
*Differential switch 30 mA (25A);
* 3 circuit breakers 10A,
*Power supply from 18 to 29VDC 160mA KNX
*Control and visualization software (20 participants KNX)
*Digital support
Included options:
- Frame equipped with a weekly clock and an energy calculator.
- Touch screen for the installation supervision.
- Effectors, blinds.
- IP gateway,
- supply with Wi-Fi router for the supervision from a tablet
4. Complete experiment
(1) lighting control simulation experiment
(2) control experiment of blinds module
(3) control experiment of roller shutter module
(4) application of USB/KNX input module
(5) control and visual software application test
(6) programming training experiment