MR408E DC servo motor Educational Equipment Vocational Training Electrical Machine
1 product overview
1.1 Summary
The training equipment is a complex mechatronics training platform composed of a servo motor linear slide, an electric switch, a servo motor controller, and a power supply module. Through related experiments, familiar with the execution and operation characteristics of the servo motor control system, and cultivate students' knowledge and technical skills, which are suitable for teaching and training purposes in technical schools, vocational schools, and colleges.
1.2 Features
(1) The training workbench adopts aluminum alloy base plate training platform, with foot pedal, and the bottom structure is firm. The actuator module is installed on the substrate, which is easy to use and not easy to damage.
(2) Box-shaped control unit, the controller's power supply and input/output points are led to the panel through the safety terminal, and the K2 test line is connected by the experiment, which is safe and reliable.
(3) The organic combination of mechanical technology, sensor technology and servo motor motion control technology embodies the characteristics of modern manufacturing technology. The overall structure is open and detachable, and the modules can be easily replaced. The content of the modules is determined according to the principle of the production function and the integrated learning function, so that the required modules can be easily selected for teaching or competition.
(4) The detection device can also be controlled by PLC and trained to realize multiple control modes of servo motor learning.

2 Capability parameters
(1) Single-phase three-wire system input power: 220v + 10% is 50hz
(2) Size: 500mm × 450 mm × 180mm
(3) Machine capacity< 1.0 KVA
(4) Weight< 100kg
(5) Working conditions: temperature-10℃~+40℃ relative humidity<85%(25℃)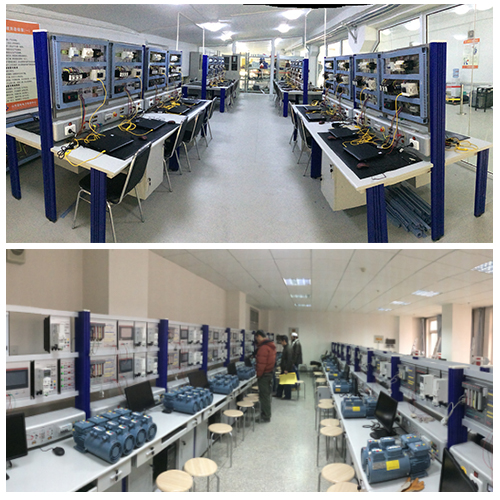 3 product composition
3.1 Power input unit
The power input is located in the operation box of the power box module, connected to a European plug, and protected by a fuse.
3.2 Training modules
The training module adopts an aluminum base with rubber adjustable feet at the bottom, which is firm and beautiful in structure.
3.3 Power configuration
(1) Single-phase three-wire power input, controlled by fuse.
(2) Equipped with power indicator light.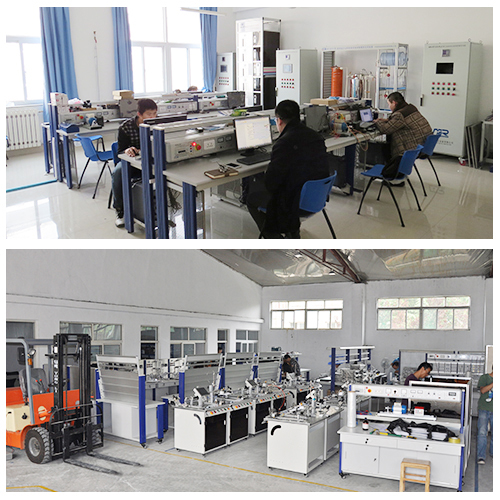 4 Training content that can be completed
(1) Servo motor dynamic model experiment
(2) Servo motor single-time trigger mode experiment
(3) Servo motor automatic reciprocating mode
(4) Servo motor single round trip mode experiment
(5) The servo motor performs the round-trip operation mode experiment according to the set time