MR036E Didactic Trainer for Energy Hybrid, Solar and Wind Electrical Machinery Educational Equipment

1.1 Overview
This training device includes modules such as solar power generation devices, photovoltaic panel power generation devices, inverters, and light-emitting controllers. Through related experiments, you can study the principles of solar and wind power generation, and cultivate students' corresponding knowledge and skills. It is suitable for vocational and vocational colleges , Secondary vocational school and technical school related professional teaching and skills assessment.
1.2 Features
(1) The training device adopts an aluminum column frame structure, and the power supply is integrated and installed.
(2) The unit circuit hanging box is fully configured and can be used in combination to complete the training content of various courses.
(3) The relevant units can be flexibly added to or deleted from the experimental subjects to meet the needs of different users.
(4) The device has a good safety protection system.

2 Performance parameters
(1) Input power: single-phase AC120V ± 10% 60Hz
(2) Dimensions: Dimensions: Wind power device: 1210mm × 1210mm × 2440mm
Solar power generation device: 1500mm × 1500mm × 2750mm
raining platform size: 1610mm × 800mm × 1350mm
(3) Overall capacity: <2KVA
(4) Weight: <100kg
(5) Working conditions:
Ambient temperature -10 ℃ ~ + 40 ℃
Relative humidity < 85% (25 ℃)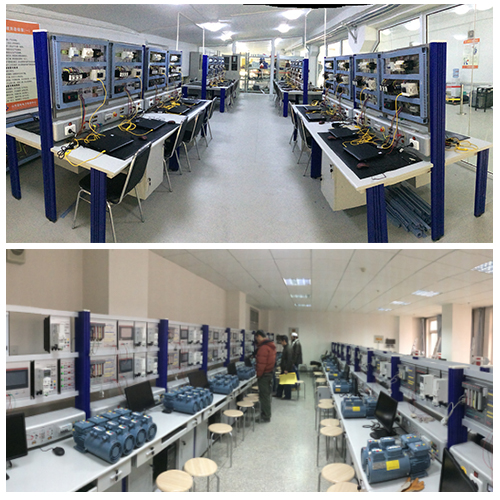 3 Product composition
3.1 platform
The power box contains the battery box, AC output, measuring instruments, AC power distribution panel, and circuit breaker and emergency stop switch. • Ability to generate, store and transform practices (DC to AC and AC to DC) in solar and wind energy
3.2 Wind turbines and photovoltaic panels
3.3 Blower and 600W Solar Simulator
Ability to simulate different wind speeds
3.4 Main supporting experimental hanging boxes and devices
(1) 1 controller box
Includes interface for collecting data over a WAN network or LAN
(2) 1 inverter box
(3) 4 instrument boxes
(4) 1 load box
4 can complete experimental training projects
1. Understanding of solar energy
2. Understanding of wind energy
3. Wind power training
4. Solar power training
5. Collection of training data for wind and solar power training