MR015M Industrial 4.0 Robot Trainer Visual Robot Trainer With 3 Kg Load Teaching Equipment Mechatronics Training Equipment
I.Overview
This device contains six degrees of freedom of industrial robots, sensor detection system, PLC control system and a set of feed, transportation agency, can realize the transmission of the workpiece pallet, testing, handling, operation, etc.
The various components of the platform are installed on the profile table, mechanical structure, electrical control circuit, and actuator are relatively independent, and adopt industrial standard parts design. Through this platform can be mechanical assembly, electrical circuit design and wiring, PLC programming and debugging, robot programming aspects of training, suitable for vocational colleges, vocational school automation or related professional industrial robots and control technology, automation technology and other courses of practice teaching, suitable for automation engineering technology personnel training and skills contest.
II.Technical performance
Input power: single phase three-wire ~ 220V plus or minus 10% 50Hz
2. Working conditions: temperature - 10 ℃ ~ + 40 ℃ relative humidity of 85% or less (25 ℃) altitude < 4000 m
3. Device capacity: < 1.5 kVA
4. Actual training platform size: 1600mm x 1200mm x 1000mm
5. Safety protection: with leakage protection, safety meets national standard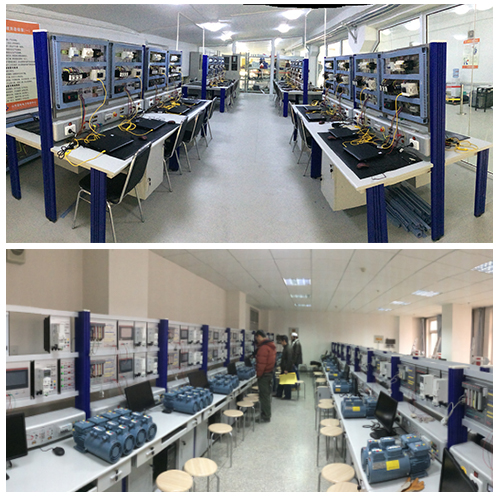 III. Equipment structure and composition
The training platform consists of six degrees of freedom, industrial robot system, programmable controller (PLC) system, the linear transmission unit, feeding unit, die-casting unit, geometrical locus control unit, electric control cabinet, profile training table, profile computer desk, etc.
Six dof industrial robot industrial robot system
It is composed of robot body, robot controller, instruction unit, input and output signal converter and grasping mechanism, which can be used to grasp, track simulation, and measure the workpiece.
Robot ontology is composed of six degrees of freedom joints, fixed training table, in profile range greater than 600 mm in radius, Angle of not less than 340 °. The robot display teaching unit has LCD display screen, enabling button, emergency stop button and operating keyboard for parameter setting, manual teaching, location editing, program editing and so on.
Mitsubishi programmable controller unit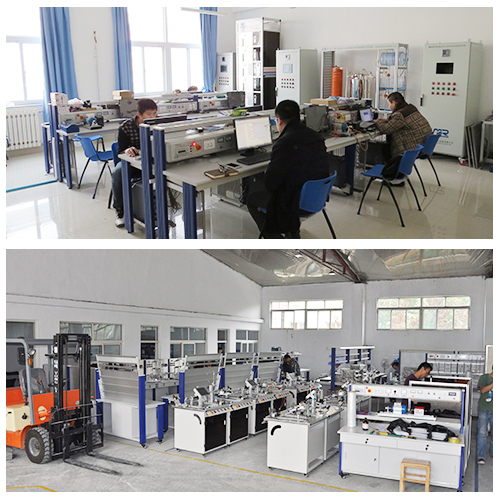 IV. Software introduction
This equipment uses the robot special debugging programming software, can be programmed and debugging robot. The software has a text editing area, location list area, attribute indicator area, project management area and other Windows, which can be used for online and offline debugging of robots. For robot does the following: program editing, servo and off, running speed setting, position of each joint, and stop the operation and given step instructions, continuous implementation and execution of the program to jump. At the same time, the software provides the low-level driver interface function, which can be used for the second development of the user and the research of deep robot control technology.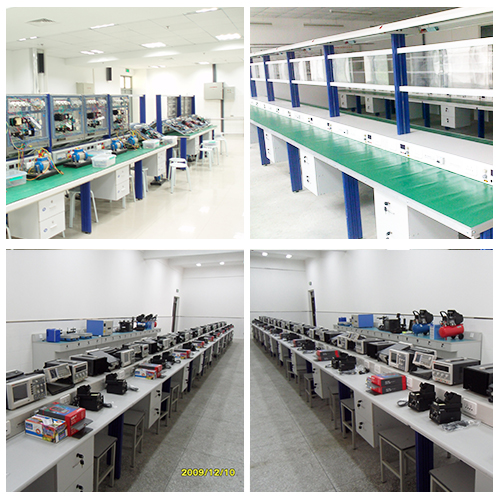 V.Training goals:
- robot structure
- robot functional analysis
- displacement technique and moving analysis
- operating software analysis (displacement algorithm, self-formation …) (we supply free edition(free editon) software with unlimited users)
- robots appliance in industrial environment
- electrical operating for robotics
- programming and control of the station stand by software via PC with possibility to follow the robot displacement, coordinates extraction and detection of the work field and singular points