MR053M PH/Ration Control Training Equipment Didactic Equipment Process Control Trainer
1 Product overview
1.1 Overview
This pH process control system is based on pH adjust trainer, it's used for pH control teaching. Through relative operation, students will be familiar with pH station control principle and control method, to cultivate students corresponding knowledge and technical skills, it's suimeter for engineering university, college, technical schools, training institute.

1.2 Feature
(1)Control monitor system is with good test technology capacity, can simulate industrial boiler water quality testing requirement, can real time, accurately test boiler water pH value(it means boiler water quality)condition.
(2)According to the industry standard requirement on boiler water quality PH value, real time automatically test, accurate data collection, delivery to training workbench center in time, set observe and control CPU control signal, make observe and control CPU add water, add acid, alkalify and pollution discharge.
(3)Through this training system, to learn students to understand boiler water acid, learn through on/off, or control injection to control ration, to learn to control Ph value, through manual control acidification and alkalify value to adjust PH value, learn three control method of PH value control.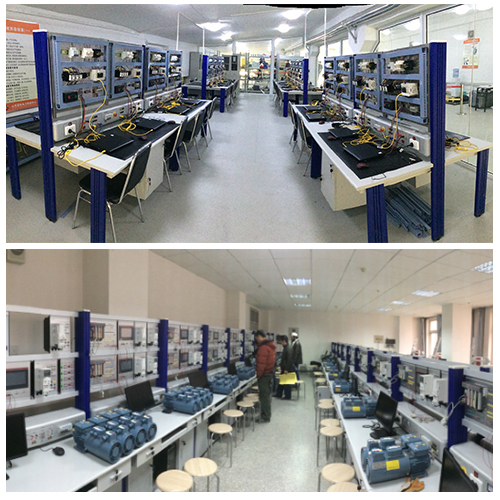 2 Capacitance and parameters
1.Control console external dimension:1000×700×1400mm.
2.Water sample input tube diameter:φ8.
3.Acidification .alkalify input tube diameter :φ8.
4.Pollution discharge tube diameter :φ8.
5. Input power supply :AC 220(±22)V. power:200W.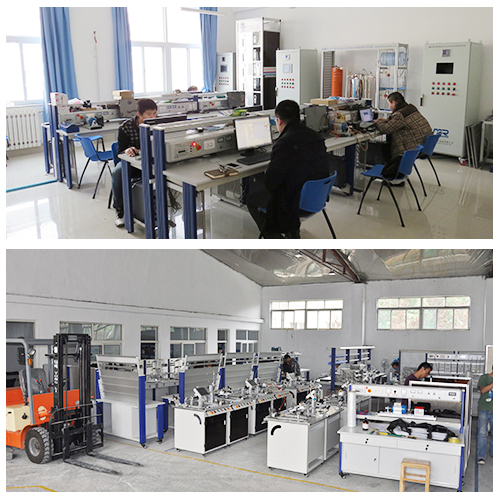 3 Product composition
3.1 PH ration control system panel
PH ration control system plate takes stainless material panel, anti-oxidation, corrosion resistant, bottom with stainless steel plate, anti liquid flooding erosion workbench desktop, acid and alkali tank use 5mm Acrylic transparent barrels, students can observe acid and alkali value directly.
3.2 Operation workbench
Operation workbench use aluminum column structure, use anti fire plate material, equip with two drawer and storage cabinet. There are four universal and two lockers, students can move and fix workbench flexible.
PH control system panel consist of main control switch, electrical control system, water liquid tank, acid liquid tank, alkali liquid tank, mixture liquid tank. Add acid pump and flowmeter, add alkali pump and flowmeter, stir motor,add water pump and exhaust pump etc.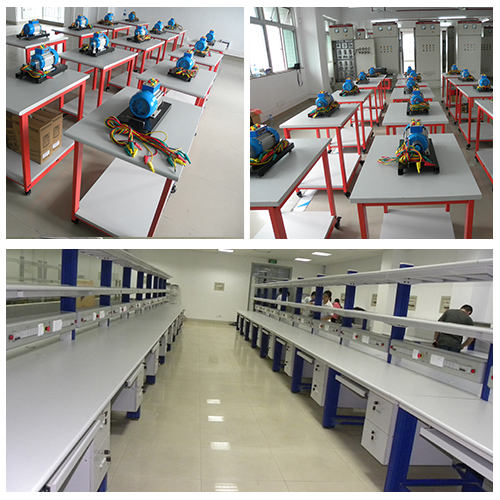 4 Experiment list
4.1 Manual on/off add acidification liquid control
4.2 Manual on/off add alkalify liquid control
4.3 Manual on/off add acidification alkali mixture liquid control
4.4 Auto on/off add acidification liquid control