MR093M Pneumatic Training Equipment Didactic Equipment Pneumatic Bench
1. Introduction
Electro pneumatic trainer is designed for "hydraulic and pneumatic training", it meets modern pneumatic transmission requirement. Students can learn basic pneumatic circuit control knowledge, and practice hand on ability. Pneumatic trainer combines electrical and mechanical transmission knowledge.
This trainer is suitable for colleges, engineer university, technical schools, vocational schools, engineer training centers, factory training department etc.
Through this trainer, students can master pneumatic components structure, pneumatic circuit control theory, pneumatic circuit design, and hand on ability for pneumatic trainer.
This trainer is flexible and students can design their own pneumatic circuit.

II. Basic structure
Pneumatic control experiment workbench including experiment workbench, experiment shelf, pneumatic components etc.
Pneumatic components and real equipment: air filter, decrease pressure valve, service unit, hand-operated direction valve, pneumatic control direction valve, strike valve, check valve, throttle valve, exhaust valve, single acting cylinder, double acting cylinder etc.
All PLC program software is teaching edition=crack edition=free edition.
A. Improvement on trainees' familiarization of the principles and applications of various air pressure components.
B. Demonstration of air-pressure loop design.
C. Training of PLC programming,
including architecture, instructions and ladder diagram. *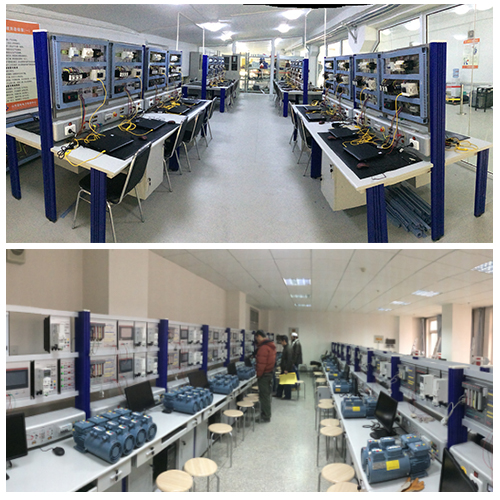 (2) Pneumatic Workbench
A. It is designed to be flexible to satisfy individual's needs.
B. A complete workbench mainly consists of 3 parts :
(a) Electro-Modules Frame
(b) Working Board (double side)
(c) Working Table (single or double side)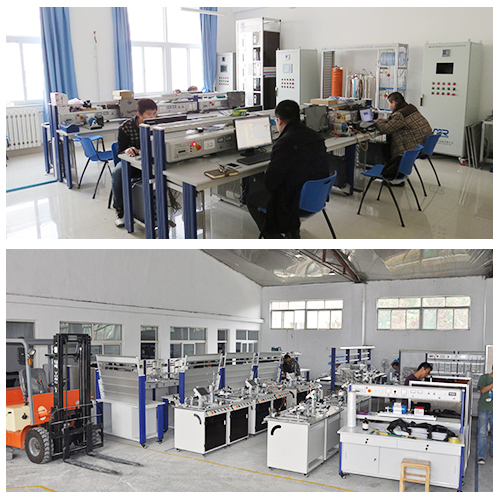 C. The combinations of the workbench can be modified based on different lab requirement.
D. A complete workbench allows customers to carry out all listed pneumatic experiments. In PART I and PART II, pneumatic components are powered by
Air Supply Unit and operated on Working Board area through connected Air Hose.
E. In PART III, the electrical components mounted on Electro-Modules Frame are linked to the pneumatic system through Connecting Lead and powered by Air Supply Unit.
F. End user are also welcome to adopt Programmable Logic Controller (PLC) for
implementation of PART III. That means Programmable Logic Controller Trainer is an alternative to Electro-Modules Frame and a corresponding electrical device.
(3) Electro-Modules Frame (Excluding Electrical Components)
A. A cabinet frame is available for mounting electrical components on either side.
B. This steel frame can accommodate up to 15 electro-modules at least.
C. Size: minimum 1260 mm(W) x 250 mm(D) x 360 mm(H) ±10%
(4) Working Board
A. Double-side aluminum grooved panel - minimum 1260 x 750 mm
B. A working surface up to 1200 x 700 mm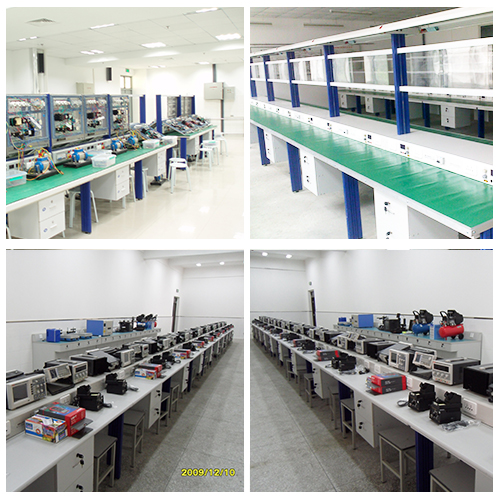 (5) Working Table
A. Single-side worktable in size minimum 1300 mm(W) x 700 mm(D) x 850mm(H)±10% Drawer units in steel with one flat drawer and four large
drawers that can be loaded up to 20 kg per drawer.
B. Double-side worktable with minimum 1300 mm(W) x 800 mm(D) x 850mm(H)±10%
Two drawer units in steel with one flat drawer and four large drawers that can be loaded up to 20 kg per drawer. •
C. The drawers with different rollers that feature an easy-gliding system for smooth running and
Additional breaking.
(6) Reed Switch
A. Operating voltage : minimum 24 VDC
B. Max. current: 100 mA
C. Frequency range: 3 - 250 Hz