MR261E Process Control Set Teaching Equipment Process Control Trainer
1.1 Overview
This trainer includes various video surveillance devices. With related experiment, you can be familiar with characteristic of video surveillance system, and you can master its control principle and way, it trains students to master corresponding knowledge and technical skills, it is suitable for higher vocational education, college, secondary vocational school and technician training school to conduct related major teaching and skills training test.
1.2 Feature
(1) The trainer adopted aluminum column frame type structure, it has universal wheel on the bottom, which can make movement flexibly, measuring meter and training power are build-in and integrated installed, which makes use easy and makes it difficult to damage.
(2) Its configuration is complete, it can be used in combination, it can achieve training content of various subjects
(3) The trainer has good safety protection system.

2. Performance parameter
(1) Input power: single phase three wire system 220V±10% 50Hz
(2) Dimension: 1600mm×800mm×1700mm
(3) Completer machine capacity: <1.5KVA
(4) Weight: <150kg
(5) Operating condition:
l Environment temperature -10℃~+40℃
2 Relative humidity <85%(25℃)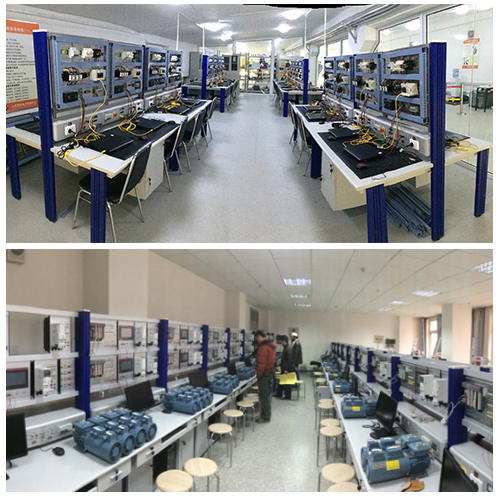 3. Product formation
3.1. Power control panel(the power box)
The power control panel adopted aluminum alloy face plate, it is enclosed housing structure.
3.2. Training workbench
The training workbench covered with fire-proof plate which is firm and wearable,there are two drawers and bottom cabinet of two sliding doors on the bottom of desktop, which can be used for placing information, tools, components and so on.
3.3. Configuration of power control panel
(1)two-phase three wire input power which is controlled by RCCB, it has emergency stop button,pressing the button under emergency circumstance, the breaker will shut off power supply.
(2)It is equipped with power light, 220V European style power output socket and 12V DC power output.
(3)It is equipped with UPS.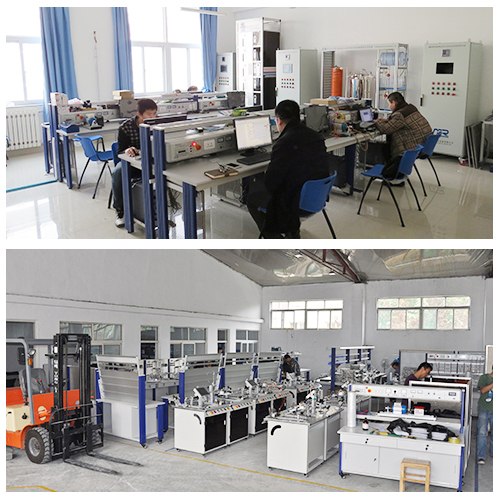 3.4. Technical data of support device
Technical Specifications:
a) Computerize DVR :
Video System: NTSC / PAL (auto detection)
(With 15 days Video Compression Format: H.264 Memory)
Video Input: 8 Channels (Composite video signal 1 Vp-p 75Q BNC)
Built in DVR Card
Video Loop Input: 8 Channels (Composite video signal 1 Vp-p 75Q ( 8 Channel ) BNC)
Video Output (BNC): Main motor: For stable display, Call
Monitor: For sequence display
Video Output (VGA): Built in VGA output for LCD Monitor
b) Movber : Standard
c) Adopter : 12 Volt
d) Camera Stand : Standard Stand
e) Video Cable : RG-6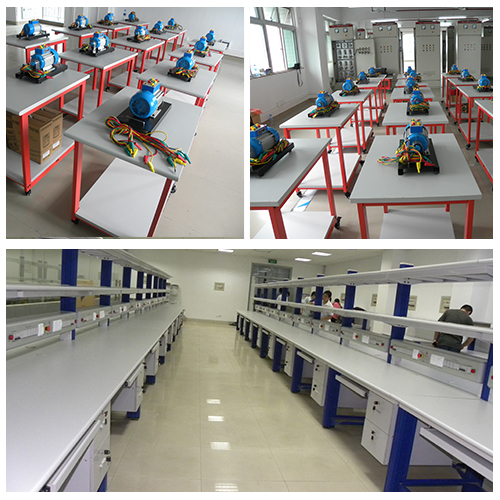 4 training content
Training item 1: operation of installation of hard disk video
Training item 2: operation of pickup camera set
Training item 3: simulation of security monitoring
Training item 4: basic operation of security monitoring system
Training item 5: method of system set
Training item 6: method of camera set
Training item 7: method of video set
Training item 8: method of timing video set