MR268E Solar Power Generation System Trainer Educational Equipment Electrical Engineering Lab Equipment
1. Product overview
1.1. Overview
The system of this training equipment can simulate demonstrate the process of solar power generation. Make the student have a preliminary and visual understanding for the solar power generation system. It can cultivate the student homologous knowledge and technical skills, it is suitable for teaching and technical skills training examine of higher vocational college, junior college, secondary vocational school and the relevant major of technician training school.
1.2. Characteristic
(1) Training bench adapt the aluminum profile column frame style construction, measurement instrument and training power supply is internally installed and integration installation, the bottom of the equipment with universal wheel, each unit flexible coordinate, easy to use, land roamer.
(2) Experiment electric circuit and component configuration complete, it can used in combination, it can accomplish the training content of multiple topic.
(3) Training bench is with good safety protection system.

2. Performance specification
(1)Solar power generation device: aluminum alloy construction, PV panel with tracking control system, it can automatic follow the light source moving, simulate light source can work at rounding-out motion driver by motor.
(2)Training bench size: aluminum profile frame construction, aluminum alloy suspended box unit type, the bottom of equipment with universe wheel, boundary dimension: 1400mm×700mm×1500mm(L×W×H)
(3)The specification of single solar panels Rated peak power: 30Wp Short circuit current:1.9A Peak current:1.7A Open circuit voltage :18.5V
(4) Storage battery specification:Voltage :12V Capacity:40Ah Storage battery loss electricity:10V±1V Executive standard: GB/T 9535 Relative humidity: 35~85%RH(Non-condensate)
(5)Working environment :Temperature-10~+40℃ temperature≤80℃ Ambient air : it does not contain corrosivity, combustible gas, it doesn't have a large number of electrical conductivity dust
(6)Power supply : Power dissipation: ≤5000W, Working power supply: AC220±5%, DC24V/ Power supply: single phase three wires AC220±5%,50HZ Working type: continuous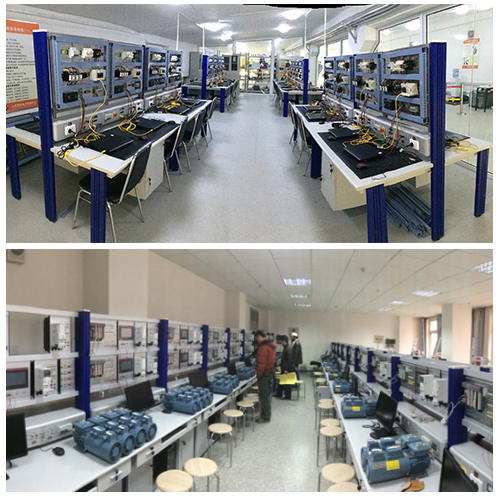 3. System introduction
This system is made up of photovoltaic power generation system, control system and contravariant system, photovoltaic power generation system is made up of simulate light source device, photovoltaic cell panel and storage battery. Control system is made up of photo-voltaic controller and trace controller. Contravariant system is made up of frequency inverter and load cell.
1.Simulate photovoltaic power generation system: this system adapt two 300W solar panel, it can carry out series and parallel connection according to different system voltage, simulate sunlight device consist of two high-power metal halide, it can simulate the location change of sunlight through rounding-out motion, it can convenient for the demonstration of various kinds sunlight condition.
2.Storage battery: it is made up of two 12V/40AH maintenance-free seal storage battery, it is can used for 12V80AH system in parallel, and it also can used for 24V/40AH in series, it can deepen the understanding of the series-parallel connection application of storage battery.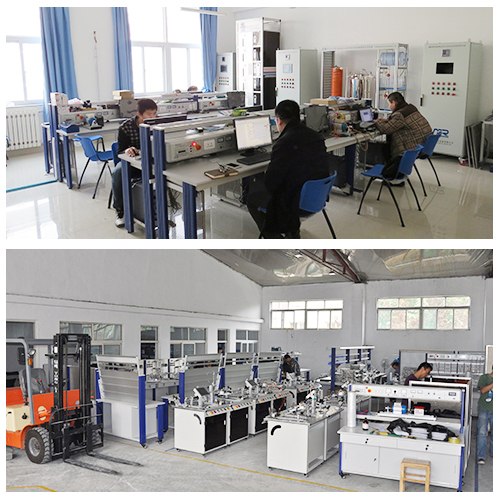 3.Controller suspended box: this suspended box adapt the industrial battery charging controller, it can control the electric power of photovoltaic panel for battery charging. It can check the system operating parameter, and it can set up user parameter by oneself, with the function of thorough prevent over battery charging, overcurrent protection.
4.Inverter suspended box: adapt 12V/24V voltage intelligent identification power frequency inverter, output voltage AC220V,continuous power 600W,peak power 1000W. Transfer efficiency more than 90%, low voltage automatic alarm.
5.Instrument suspended box: it can real time display the generating voltage, generating current, charging voltage, charging current, contravariant voltage and contravariant current.
6. Terminal load suspended box: including incandescent lamp, energy saving lamp and axial flow fan, it can carry out different kinds load experiment for the 220 V alternating current of inverter conversion.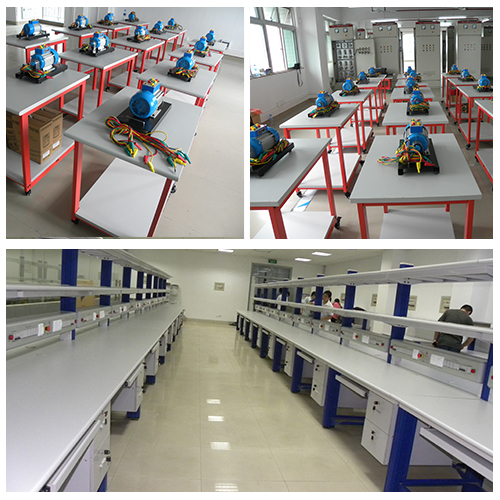 3.2 . Training workbench
Training table adapt the aluminum profile upright support, at the bottom of universal wheel with brake, it can flexible move and location. Desktop adapt high density substrate, the thickness is 25mm, surface adapt the high temperature and high pressure fire-proof plate veneering, with two three-knob rail type drawer, two sliding door type bottom cabinet, sound construction, elegant appearance.
3.3. Power supply control screen configuration
(1)Voltmeter, amperemeter regard as output indication.
(2)With power supply indicator light, safety power supply output terminal
(3)Built-in AC power supply, with the function of short circuit protection.
3.4. Support device
(1)Two controller suspended box
(2)One inverter suspended box
(3)One instrument suspended box