MR041R Split inverter multi-station system: Tri Split Vocational Training Equipment
1 Product overview
This course is a professional course of thermal energy and power engineering. It aims to introduce the operation mode of one-drive three-type air conditioner to students systematically, master the control principle of air conditioner and the operation mode of compressor, and show the system to make students in the teaching process. clearly understand the principle. Master the refrigeration and heating principles of air conditioners and the principles of piping connections.

2 Equipment Features
The training platform adopts an aluminum profile chassis frame structure, which is simple and firm in structure. It reduces the overall weight of the equipment while ensuring the overall strength of the equipment. There are 4 universal wheels installed at the bottom, which can be easily moved.
The equipment has a good security protection system. The power supply of the system is controlled by a leakage circuit breaker to protect the safety of the compressor and the system, and ensure the safety of equipment and personnel.
The inner unit of the air conditioner is installed on the composite wooden board, which is stable and easy to observe the outlet temperature of the air conditioner.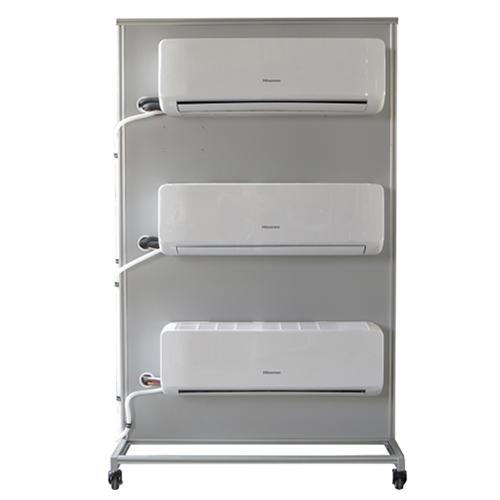 3 Technical parameters
(1) Input power: 220V±10% 50Hz;
(2) Weight: <100kg;
(3) Working conditions: ambient temperature 10 ℃ ~ 30 ℃ relative humidity <75% (25 ℃);